Relieve stress after a long day with skin-soothing Bath Soak formulated to provide nourishing stress relief through a blend of essential oils and sea salts. Breathe deeply for best results.
USAGE:
Add 3 or 4 capfuls to running water. Breathe in to feel your stress melt away.
Scents Available:
EUCALYPTUS SPEARMINT (Promotes Stress-Relief) – Eucalyptus Essential Oil clears the mind while Spearmint Essential Oil uplifts.
USA $16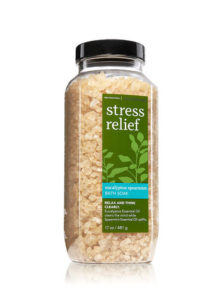 Sale

What's a bath fizzy? So glad you asked: Bath and Body Works' version of a bath bomb, jam-packed with amazing fragrances, essential oils, fizzing agents (enter the fun bubbly feeling) and shea to get you moisturized to the max.
Pick your favorite fragrance, available in calming Aromatherapy blends.
Once you've picked the scent, simply fill up your bathtub halfway, put the fizzy below the faucet while it's running and watch the fizzing begin. And don't worry if your fizzy has color in it – it's just for fun and it won't stain your tub! Fizz? Foam? Fun? Check, check, check!
Available Scent:
Aromatherapy Stress Relief – Eucalyptus Spearmint
USA $6.95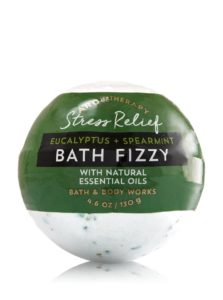 Sale