Travel-Size  Body Lotion (3 fl.oz.)
Perfect for carrying in bags!
Available Scents:
Vanilla Bean Noel – SOLD OUT
USA Price $6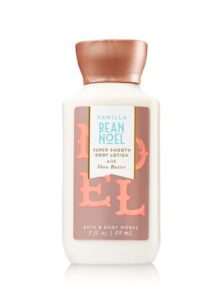 Sale

America's #1 Lotion! The fragrance you love with an all new look! Infused with Shea Butter and our exclusive Daily Moisture Complex, our enhanced lotion contains more of what skin loves. Fortified with nutrient-rich ingredients like protective Vitamin E and conditioning Vitamin B5, our fast-absorbing, non-greasy formula delivers 16 hours of continuous moisture.
Scents Available:
A Thousand Wishes
Almond Blossom
Almond & Vanilla
Amber Blush
Be Enchanted
Beautiful Day
Bright Autumn Blooms
Brown Sugar & Fig
Bourbon Strawberry & Vanilla
Butterfly Flower
Carried Away
Cashmere Glow
Champagne Apple & Honey
Cherry Blossom
Coconut Lime Breeze
Cotton Blossom
Country Apple
Cucumber Melon (Best-Selling scent!)
Dark Kiss
Endless Weekend
Freesia
French Lavender & Honey
Fresh Sea Salt Mango
Get Happy
Gingerbread Latte – PHASED OUT
Hello Beautiful
Hello Sunshine
Island White Sand
Japanese Cherry Blossom (Best-Selling scent!)
Juniper Breeze
Lavender & Sandalwood
Limoncello
Love & Sunshine
Mad About You (Best-Selling scent!)
Magic in the Air
Mahogany Woods for Men
Mango Mandarin
Midnight Pomegranate
Moonlight Path
Oahu Coconut Sunset
Paris Amour
Peach Bellini
Pearberry
Peony
Pink Cashmere
Pink Chiffon (Best-Selling scent!)
Pink Magnolia
Plumeria
Pretty as Peach
Pure Paradise
Rainkissed Leaves
Rose
Sea Island Cotton
Secret Wonderland
Sensual Amber
Snowy Morning
Sun-Ripened Raspberry
Sunset by the Pool
Sweet Pea (Best-Selling scent!)
Sweet Summer Kiss
Tahiti Island Dream
Tutti Dolci Sweet Lemon Buttercup – PHASED OUT
Tutti Dolci White Mocha Kiss – PHASED OUT
Twilight Woods
Twisted Peppermint
Vanilla Bean Noel
Velvet Sugar
Violet Lily Sky – SOLD OUT
Violet Plum
Warm Vanilla Sugar (Best-Selling scent!)
Watermelon Lemonade
White Citrus
White Tea & Ginger
Whitewater Rush for Men
Wild Honeysuckle
Wild Madagascar Vanilla
Winter Candy Apple
USA $12.50
Sale