Bath and Body Works Olive Oil Body Scrub
Size: 8 oz / 226 g
The perfect scrub for shower or bath, our non-greasy, exfoliating Olive Oil Body Scrub gently leaves skin feeling soft and smooth with a rich blend of natural almond essential oil & European olive oil.
USA Price $16.50
Scent Available:
ALMOND & VANILLA – Sold Out – A softly sweet blend of Almond & Vanilla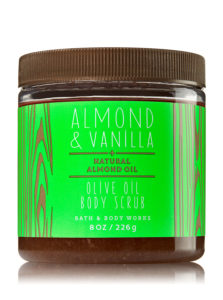 Sale

Bath and Body Works Body Scrub
Size: 8 oz / 228 g
USA Price $16.50
Scent Available:
SWEET PEA Foaming Sugar Scrub
A bright, young-at-heart blend of sweet pea, watery pear & luscious raspberry
The fragrance you love with an all new look! Foaming Sugar Scrub soothes skin with a luxurious, rich lather, while naturally exfoliating sugar crystals gently reveal your radiance. With Vitamin E and Sunflower Oil, this limited edition formula nourishes and protects skin, leaving it incredibly soft and smooth.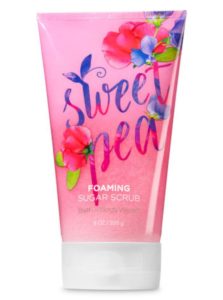 Sale