Bath and Body Works Olive Oil Body Scrub
Size: 8 oz / 226 g
The perfect scrub for shower or bath, our non-greasy, exfoliating Olive Oil Body Scrub gently leaves skin feeling soft and smooth with a rich blend of natural almond essential oil & European olive oil.
USA Price $16.50
Scent Available:
ALMOND & VANILLA – Sold Out – A softly sweet blend of Almond & Vanilla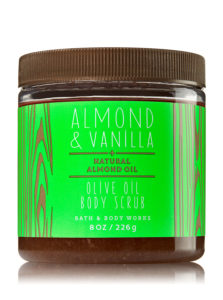 Sale

Bath and Body Works Body Scrub
Size: 5 oz / 142 g
USA Price $14.50
Scent Available:
BLACK LAVA (Medium Exfoliators) – SOLD OUT
A woodsy blend of Crisp Bergamot, Black Pepper, Exotic Orchid, Cedarwood & Skin Musk
Volcanic Ash is one of the best kept beauty secrets of the Polynesian Islands, known for its skin purifying and exfoliating properties. Infused with Volcanic Ash, detoxifying White Clay and clarifying Activated Charcoal, this body scrub purifies while it smooths to give skin a healthy-looking texture and tone.
ISLAND SAND (Heavy Exfoliators) -SOLD OUT
A beachy blend of Sea Salt, Ocean Mist, Orange Blossom Water, Lotus Flower & Warm Amber
Transport yourself to the tropical Bora Bora beaches with our island-inspired scrub. With skin-smoothing coastal Walnut Shell and creamy Coconut Oil, this body scrub leaves skin feeling incredibly soft and rejuvenated.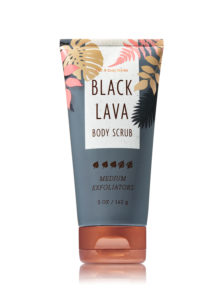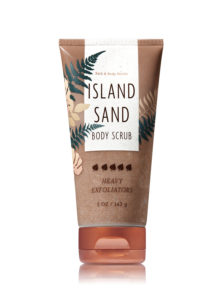 Sale